John Hudson is an actor/teacher/producer living in Köln, Germany. He has considerable knowledge in improvisation theatre, corporate training and he also sings.  Since living in Germany he is trying to be more efficient, is still learning German and has learnt to yodel.  He was born in Wanaka, NZ. in 1960.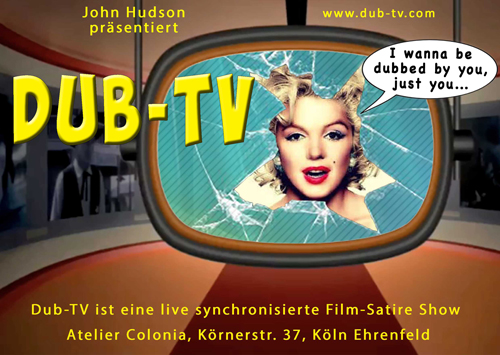 Dub-TV Die Film Satire Show
Dub-TV is a live synchronised film satire show, that turns the world on it's head.  With Impro comedians, musicians, song and video art! Produced and hosted by John.
The English Language Show
This 90 minute show is for everybody who is learning or teaching english.  It is interactive, effective and fun.  A real english experience with a native speaker.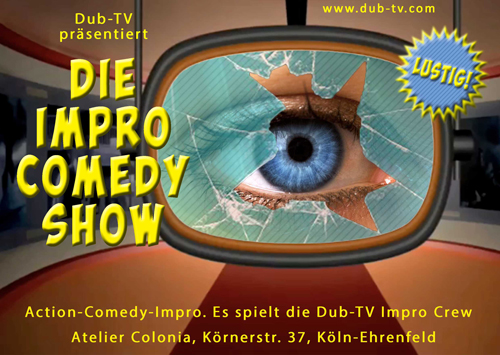 Die Impro Comedy Show
Die Impro Comedy Show is a classic short and long form Improvisation show.  The performers are both professional and amateur and the show is more fun than a full nude body massage.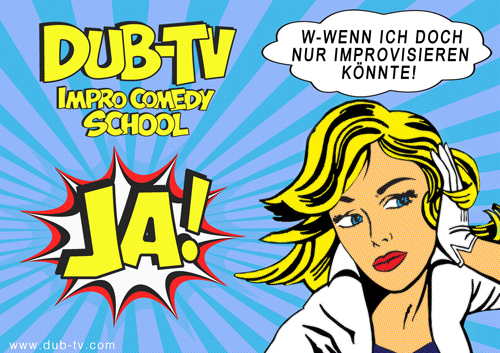 Wochenende Workshops
Workshops and training for people who want to learn Improv, be funny or just simply to open the mind and learn new things.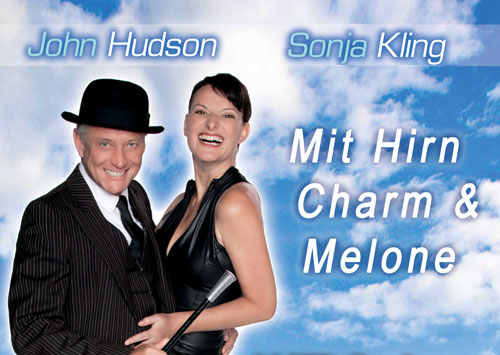 Mit Hirn Charme & Melone
This show shows us how our brain works, and also how it doesn't work. With insights into the history of brain research, along with a panoply of intriguing cases of neurological dysfunctions, they take their audience into a world of weird wonders: We have the Genius Epileptics, the blind, who can see, a crazy Scottish woman, the alien hand syndrome, capgras syndrome, which can turn a timid Japanese businessman into a samurai murderer, a murderous grandmother, mirror neurons, and oxytocin – the greatest love drug in the world!
The masterminds Kling and Hudson, alias John Steed and dr. Emma von Piel, celebrate the brain as an organ-made universe of infinite possibilities. This show is visionary and revolutionary. Our potential is infinite and we are all connected!
Montag Drop-In Workshops
Every Monday.  7 – 9pm. Körnerstr 37, Ehrenfeld, Köln.
20€ for adults.  15€ for students and children.  Age limit 12.
John has been working in corporate training since the early 1990s. He can adapt his program to the requirements, the audience size and the language orientation. He has a long list of clients and can think outside the box to create a package that will energise any corporate training program.
John as trainer
John uses the art of improvisation and theatre to challenge people to explore their creativity and operate outside their comfort zones.  The ability to create a picture of a business operation inside your head, to understand the ebb and flow of inputs and outputs and to maintain an overview of the whole operation is a fundamental tool in running a business.  John trains and develops this fundamental skill as well as enhancing people's communication techniques and mental agility.
the art of Improvisation
Improvisation
The art of improvisation is the perfect training tool for the modern world. It develops spontaneity, agility of thinking, teamwork and confidence. An added bonus is that it is fun and develops the art of humour, a much needed skill for every businessman in this modern world. If you are looking for boundaries to be tested and moved, improvisation is a one-stop-shop where you can test your courage and bravery and develop the ability to think on one's feet.
Creativity
Creativity is a must in this world in which we live. Creative's invigorate, encourage, enlighten and stimulate people. It's extremely important to develop your creativity, and the best place to do that is with art.
Improvisation kept simple
Improvisation
Improvisation is about having ideas and conveying those ideas to others through language, gesture, eye contact and feelings. It is pure communicating. The process works best when things are kept simple. The rules are straight forward and can be learnt quickly.  The application of the rules takes time, but It's a lot of fun trying and one of the most important aspects in improvisation is the ability to accept your mistakes and learn from them. 
Film & TV
Year

Film

Medium

Role

Director

2015

Goodies

Promotional Video

Presenter

CCDS Communication and Design

2013

Miele

TVC

Husband

Media Production House

2013

Durchgedreht

TV. ZDF. Impro format.  Series 1

Köln

2012

Durchgedreht

TV. ZDF. Impro format.  Pilot

2011

Mazda

Webcast

Leverkusen

2010

Mazda Commercial

2 short comedy films.

Köln

2007

Fang den Mörder

Director – TV West Deutsch Rundfunk

Köln Germany

2007

Thank God you're here!

Stage Director/ Coach
Tv Pro7/Grundy

Köln Germany

2007

Frei Schnauze XXL
series 2.

Improvisation Advisor/Coach
TV RTL/Hurricane

Köln Germany

2006

Frei Schnauze XXL
Series 1.

Improvisation Advisor/Coach
TV RTL/Hurricane

Köln Germany

2006

Thank God you're here!
Series 1.

Stage Director/ Coach
Tv Pro7/Grundy

Köln Germany

2006

Frei Schnauze Series 3.

Improvisation Advisor/Coach
TV RTL/Hurricane

Köln Germany

2006

Thank God you're here! (Pilot)

Improvisation Advisor/Coach – Tv Pro7/Grundy

Köln Germany

2005

World Cup Comedy

Improvisation Advisor/Coach – Tv Pro7/Granada

Berlin Germany

2005

RTL Comedy Nacht

Coach – TV RTL

Köln Germany

2005

Frei Schnauze Series 2.

Improvisation Advisor/Coach
TV RTL/Hurricane

Köln Germany

2005

Cobb and Co

TVC

Father

NZTV

2005

Dresden

TV Film

English Officer

ZDF Germany

2004

Frei Schnauze Series 1

Improvisation Advisor/Coach
TV RTL/Hurricane

Köln Germany

2004

Schillerstr.

Improvisation Advisor
TV Sat 1/Hurricane

Köln Germany

2005

Cobb and Co

TVC

Father

NZTV

2005

Dresden

TV Film

English Officer

ZDF Germany

2003

Huttons sausages

TVC

Comedian

NZTV

2001

Arosa Comedy Special

Television

Comedian

Swiss TV

1999

Robs Comedy Show

Television

Comedian

Swiss TV

1997

Klein Kunst Variete

Television

Comedian

ZDF Germany

1996

The Last Shave

Short Film

Lead Role

David Reid Films NZ

1996

NDR Spät Show

Television

Comedian

N D R Germany

1994

Latimer Lodge

Advert

Comedian

Orly NZ

1992

The Mad Mad World of

Television

Comedian

TVNZ

1991

Hurricane Fencing

Advert

Yuppie

Orly NZ

1988

Life in the Fridge

Television

Medical Presenter

TVNZ

1987

Peters Story

Short Film

Courier

Robert Sparky NZ

1986

Wipe Out

Advert

Farmer

Colenso NZ

1984

Full Circle

Video

Presenter

Chris Balme NZ

1982

Second Time Lucky

Feature Film

Friend of the lead

Michael Anderson NZ

1982

Constance

Feature Film

Young Lad

Bruce Morrison NZ

1981

Bad Blood

Feature Film

First aid Officer

Mike Newell NZ

1977

Against the Law

Television

Thief

Alan Lyndsay TVNZ

1977

Against the Law

Television

Young Lad

Alan Lyndsay TVNZ

1977

Hanlon

Television

Sailor

Wayne Torrell TVNZ
Directing
Year

Play

Brief description

City

2023

Dub-TV

Impro format.

Köln

2023

Die Impro Comedy Show

Impro format.

Köln

2022

Weihnachts Märchen

Impro formats. ZDF Constantine Productions

Warsaw, Poland.

2022

Frei Schnauze

Impro format. RTL

Köln

2022

Die Impro Comedy Show

Impro format.

Köln

2022

Dub-TV

Impro format.

Köln

2021

Die Impro Comedy Show

Impro format.

Köln

2021

Dub-TV

Impro format.

Köln

2020

Die Impro Comedy Show

Impro format.

Köln

2020

Dub-TV

Impro format.

Köln

2019

Die Impro Comedy Show

Impro format.

Köln

2019

Dub-TV

Impro format.

Köln

2018

Die Impro Comedy Show

Impro format.

Köln

2018

Dub-TV

Impro format.

Köln

2017

Die Impro Comedy Show

Impro format.

Köln

2017

Dub-TV

Impro format.

Köln

2016

Die Impro Comedy Show

Impro format.

Köln

2016

Dub-TV

Impro format.

Köln

2015

Kamikaze

Impro format.

Köln

2015

Dub-TV

Impro format.

Köln

2014

Dub-TV

Impro format.

Köln

2013

Dub-TV

Impro format.

Köln

2013

Durchgedreht

TV. ZDF. Impro format.  Series 1

Köln

 

2012

Durchgedreht

TV. ZDF. Impro format.  Pilot

 
 

2012

Mit Hirn Charm und Melone

Science Comedy

Köln

 

2011

Mazda

Webcast

Leverkusen

 

2011

Pirates of Corsair Bay

Community event

Lyttelton

 

2010

Mazda Commercial

2 short comedy films.

Köln

 

2009

Storybusters

Improv Trash

München

 

2009

Auf der Couch

Co Director for Springmaus

Bonn Germany

2008

Dub TV

Over-dubbed classic films

Köln, Germany

2008

Karneval Show

Co Director for Springmaus

Bonn, Germany

2008

Xmas Show

Co Director for Springmaus

Bonn, Germany

2008

Mach dein Ding

Co Director for Springmaus

Bonn, Germany

2007

The Full Monty

Director

Christchurch NZ

2007

Fang den Mörder

Director – TV West Deutsch Rundfunk

Köln Germany

2007

Thank God you're here!

Stage Director/ Coach
Tv Pro7/Grundy

Köln Germany

2007

Frei Schnauze XXL
series 2.

Improvisation Advisor/Coach
TV RTL/Hurricane

Köln Germany

2006

Frei Schnauze XXL
Series 1.

Improvisation Advisor/Coach
TV RTL/Hurricane

Köln Germany

2006

Thank God you're here!
Series 1.

Stage Director/ Coach
Tv Pro7/Grundy

Köln Germany

2006

Frei Schnauze Series 3.

Improvisation Advisor/Coach
TV RTL/Hurricane

Köln Germany

2006

Thank God you're here! (Pilot)

Improvisation Advisor/Coach – Tv Pro7/Grundy

Köln Germany

2005

World Cup Comedy

Improvisation Advisor/Coach – Tv Pro7/Granada

Berlin Germany

2005

RTL Comedy Nacht

Coach – TV RTL

Köln Germany

2005

Frei Schnauze Series 2.

Improvisation Advisor/Coach
TV RTL/Hurricane

Köln Germany

2004

Frei Schnauze Series 1

Improvisation Advisor/Coach
TV RTL/Hurricane

Köln Germany

2004

Schillerstr.

Improvisation Advisor
TV Sat 1/Hurricane

Köln Germany

2003

Romeo and Juliet

Street Theatre show

Köln Germany

2002

Die Hochzeit

Murder mystery dinner theatre

Köln Germany

2000

Romeo and Juliet

Comedy

Köln Germany

2000

Hopes and Dreams

Sociopolitical Theatre

Christchurch NZ

1999

Macbeth meets Frankenstein

Comedy

Köln Germany

1998

The Akaroa Show

Festival

Akaroa NZ

1997

Hair

Musical

Christchurch NZ

1997

Out of the Volcano

Community Drama

Akaroa NZ

1996

The Female Dragon

Mask and Puppet

Christchurch NZ

1996

Xirxalta

Ritual Theatre

Bayreuth, Dublin

 

1995

The Tempest

Outdoor Shakespeare

Christchurch NZ

1995

How the West was Warped

Play

Kaiapoi NZ

1995

The Great Darfield Icicle

Community Drama

Darfield NZ

1994

Jungle Fantasy

Play

Kaiapoi NZ

1994

Cinderella

Children's play

Christchurch NZ

1994

Jack and the Bean Stalk

Children's play

Christchurch NZ

1993

Bullshot Crummond

Play

Kaiapoi NZ

1992

Abracadaver

Play

Kaiapoi NZ

1992

The Game

Virtual Reality Theatre

Christchurch NZ

1991

The Game

Virtual Reality Theatre

Whangarei NZ

1991

Hornby on the Edge

Community Theatre

Christchurch NZ

1991

The Game

Virtual Reality Theatre

Christchurch NZ

 

1991

Glimpse

Ambient Theatre

Kaiapoi NZ

1991

Spring has Sprung Show

Community Theatre

Akaroa NZ

1990

People, People, People

Outdoor Community Theatre

Christchurch NZ

1990

Theatre Supermarket

Virtual Reality Theatre

Christchurch NZ
Writing
| Year | Title | Form | City |   |
| --- | --- | --- | --- | --- |
| 2023 | Dub-Tv Monthly | Satire | Köln |   |
| 2022 | Dub-Tv Monthly | Satire | Köln |   |
| 2021 | Dub-Tv Monthly | Satire | Köln |   |
| 2020 | Dub-Tv Monthly | Satire | Köln |   |
| 2019 | Dub-Tv Monthly | Satire | Köln |   |
| 2018 | Dub-Tv Monthly | Satire | Köln |   |
| 2017 | Dub-Tv Monthly | Satire | Köln |   |
| 2016 | Dub-Tv Monthly | Satire | Köln |   |
| 2015 | Dub-Tv Monthly | Satire | Köln |   |
| 2014 | Dub-Tv Monthly | Satire | Köln |   |
| 2013 | Dub-Tv Monthly | Satire | Köln |   |
| 2011 | Mit Hirn, Charme und Melone | Science Comedy | Germany |   |
| 2010 | The Travelling Brain Show | Science Comedy | NZ |   |
| 2008 | Would Will write it….Oh Whatever! | Shakespearian Comedy Theatre | Köln Germany |   |
| 2006 | Schwarz Rot Gold | TV Comedy | Köln Germany |   |
| 2004 | The Game | TV Show | Köln |   |
| 2002 | The Storm | Adventure Film | Köln |   |
| 2000 | Hopes and Dreams | Sociopolitical Theatre | Christchurch | Review |
| 2000 | Romeo and Juliet | Comedy | Köln |   |
| 1999 | Macbeth meets Frankenstein | Comedy | Köln |   |
| 1998 | Out of the Volcano | Community | Akaroa | Review |
| 1997 | The Female Dragon | Mask and Puppet | Christchurch |   |
| 1995 | The Great Darfield Icicle | Community show | Darfield |   |
| 1991 | The Game | Large scale interactive work | Christchurch | Review |
| 1991 | Hornby On The Edge | Community show | Hornby |   |
| 1990 | People, People, People | Community show | Christchurch |   |
| 1990 | Theatre Supermarket | Large scale interactive work | Christchurch |   |
| 1989 | Another Glimpse | Experimental theatre | Christchurch | Review |
| 1988 | The Rocky Quarry Show | Community theatre | Dunedin |   |
| 1987 | Te Aomarama | Maori Myths | Dunedin | Review |
| 1987 | Glimpse | Experimental theatre | Dunedin |   |
| 1985 | Ko Maui | Maori Myths | Dunedin |   |
| 1984 | A Long Way Home | Socio political | Dunedin | Review |
| 1984 | Admiro | Romantic clown routine | Dunedin |   |
Review
Theatre
Year

Play/Firm

Role

Director/Company

City/Country

 
2022
The English Language Show
Solo Improvisor
John Hudson
Germany
2022
Die Impro Comedy Show
Host
Dub-TV Productions
Köln Germany
2022
Dub-TV
Host
Dub-TV Productions
Köln Germany
2021
The English Language Show
Solo Improvisor
John Hudson
Germany
2021
Die Impro Comedy Show
Host
Dub-TV Productions
Köln Germany
2021
Dub-TV
Host
Dub-TV Productions
Köln Germany
2020
The English Language Show
Solo Improvisor
John Hudson
Germany
2020
Die Impro Comedy Show
Host
Dub-TV Productions
Köln Germany
2020
Dub-TV
Host
Dub-TV Productions
Köln Germany
2019
The English Language Show
Solo Improvisor
John Hudson
Germany
2019
Die Impro Comedy Show
Host
Dub-TV Productions
Köln Germany
2019
Dub-TV
Host
Dub-TV Productions
Köln Germany
2018
The English Language Show
Solo Improvisor
John Hudson
Germany
2018
Die Impro Comedy Show
Host
Dub-TV Productions
Köln Germany
2018
Dub-TV
Host
Dub-TV Productions
Köln Germany
2017
The English Language Show
Solo Improvisor
John Hudson
Germany
2017
Die Impro Comedy Show
Host
Dub-TV Productions
Köln Germany
2017
Dub-TV
Host
Dub-TV Productions
Köln Germany
2016
The English Language Show
Solo Improvisor
John Hudson
Germany
2016
Die Impro Comedy Show
Host
Dub-TV Productions
Köln Germany
2016
Dub-TV
Host
Dub-TV Productions
Köln Germany
2015
The English Language Show
Solo Improvisor
John Hudson
Germany
2015
Dub-TV
Host
Dub-TV Productions
Köln Germany
2014
Dub-TV
Host
Dub-TV Productions
Köln Germany
2014
The English Language Show
Solo Improvisor
John Hudson
Germany
2014
Irish Celtic
Paddy Flynn
Diamond dance productions
Germany
2013
Dub-TV
Host
Dub-TV Productions
Köln Germany
2013
The English Language Show
Solo Improvisor
John Hudson
Germany
2013
Irish Celtic
Paddy Flynn
Diamond dance productions
Germany
2013
Mit Hirn, Charme und Melone
John Steed
Kling Hudson
Germany
2012
The English Language Show
Solo Improvisor
John Hudson
Germany
2012
Mit Hirn, Charme und Melone
John Steed
Kling Hudson
Germany
2011
Glamour Impro Gaga
Comedian
Kling Hudson
Germany
 
2011
The Travelling Brain Show
Presenter
Kling Hudson
Tour. South Island NZ
 
2010
The Life of Brain
Presenter
Kling Hudson
Lyttelton, NZ
 
2010
Glamour Impro Gaga
Comedian
Kling Hudson
Germany
 
2009
Didacta
Presenter
Diesterweg
Hannover Germany
 
2008
Siemens Oil and Gas
Presenter
Think Theatre
Düsseldorf Germany
 
2008
Pharma
Presenter
Königs
Majorca Spain
 
2007
Post Wedding Party
Entertainer
Emscherblüt
Gillette France
 
2007
Wedding of Colin and Sabina
Entertainer
Emscherblüt
Skibo Castle Scotland
 
2005
Dr Love and the flirt squad
Dr Love
John Hudson
Glastonbury England
 
2004
Dr Love and the flirt squad
Dr Love
John Hudson
Glastonbury England
 
2003
Times of your life
Comedian
Richard Cosgrove
Christchurch NZ
 
2002
Jubilation
Kings of England
Toby Gough
Henley on Thames England
 
2002
Linnaeus
Linnaeus
Toby Gough
Christchurch NZ
 
2001
Whose Bard is it anyway
William Shakespeare
Andy Spargo
Christchurch NZ
 
1999
The Tempest
King Alonso
Toby Gough
Edinburgh Festival
 
1999
Journey to MacBeth
King Duncan Doctor
Toby Gough
Edinburgh Festival
 
1999
The Three Baritones
Lead
John Hudson
Christchurch NZ
 
1998
Linnaeus
Linnaeus
Toby Gough
Edinburgh Festival
 
1998
Suburb
Orpheus
Toby Gough
Christchurch  NZ
 
1998
The Three Baritones
Lead
John Hudson
Christchurch NZ
 
1997
Linnaeus
Linnaeus
Toby Gough
Christchurch NZ
 
1996
Waiting for Godot
Vladimer
Wickham Pack
Christchurch NZ
 
1994
A Midsummer Nights Dream
Puck
Hallum and Clark
Christchurch NZ
 
1994
Twelfth Night
Fabian
Elric Hooper
Christchurch NZ
 
1994
Blood
Doctor
Alistair Browning
Christchurch NZ
 
1993
Romeo and Juliet
Benvolio
Hallum and Clarke
Christchurch NZ
 
1992
The Rest is Silence
Hamlet
Sue Jordan
Christchurch NZ
 
1992
The Game
Zog
John Hudson
Christchurch NZ
 
1992
Suspect
Cadbury
Ross Gumbley
Christchurch NZ
 
1991
The Game
Zog
John Hudson
Whangarei NZ
 
1991
The Game
Zog
John Hudson
Christchurch NZ
 
1991
Love Birds
Narrator
Mervyn Thompson
Christchurch NZ
 
1991
Red 7
Buzz
Richard Huber
Christchurch NZ
 
1990
Jam
Mr Plum
Michelanne Forster
Christchurch NZ
 
1990
Theatre Supermarket
Zog
John Hudson
Christchurch NZ
 
1989
Children Of The Poor
Various
Mervyn Thompson
Christchurch NZ
 
1988
Incident
Various
Richard Huber
Christchurch NZ
 
1988
Much Ado About Nothing
Conrade
Elric Hooper
Christchurch NZ
 
1988
After The Crash
Michael
Brian Aitken
Christchurch NZ
 
1988
After The Crash
Michael
Brian Aitken
Christchurch NZ
 
1987
Ubu Roi
MacNure
Richard Huber
Dunedin NZ
 
1986
Ko Maui
Maui
John Hudson
München Germany
 
1986
Ko Maui
Maui
John Hudson
East Berlin DDR
 
1985
Ko Maui
Maui
John Hudson
München Germany
 
1984
Kaspajack
Kaspajack
Chris Balme
Dunedin NZ
 
1984
Pongo Plays
Pongo
Caroline Claver
Dunedin NZ
 
1984
Admiro
Admiro
John Hudson
Dunedin NZ
 
1984
Beggars Opera
Lockit
Professor Drummond
Dunedin NZ
 
1984
Endgame
Clov
C Ronald Olauson
Dunedin NZ
 
1983
Betrayal
Waiter
Richard Mudford
Dunedin NZ
 
1983
Evita
Chorus
Stetson Productions
Australia
 
1982
Waiting For Godot
Boy
Paul Minifie
Auckland NZ
 
1982
Maori Myths
Maui
Paul Minifie
Auckland NZ
 
1982
The No No Show
Various
Roger Mc Gill
Auckland NZ
 
1982
'1984'
Various
Murray Lynch
Auckland NZ
 
1982
Story Theatre
Various
Maya Dalziel
Auckland NZ
 
1981
Aesops Fables
Various
Rawiri Paratene
Dunedin NZ
 
1981
Romeo and Juliet
Tybalt
Tony Richardson
Dunedin NZ
 
1981
Foxy Fables
Various
Rawiri Paratene
Dunedin NZ
 
1981
Accidental Death of an Anarchist
Constables
Simon O'Connor
Dunedin NZ
 
1981
Bent
Wolf
Tony Richardson
Dunedin NZ
 
1981
Thrills Chills and Spills
Various
Rawiri Paratene
Dunedin NZ
 
1981
Big Black No
Cabaret
Rawiri Paratene
Dunedin NZ
 
1981
Oldest Profession
'MAN'
Simon O'Connor
Dunedin NZ
 
1981
The Rose
Various
Tony Richardson
Dunedin NZ
 
1981
Fantastics
Mute
Tony Richardson
Dunedin NZ
 
1980
The Beast Of Baldrock
Hero
John Hudson
Dunedin NZ
 
1978
Story Theatre
Actor
Caroline Claver
Dunedin NZ
 
1978
Glide Time
Michael
Murray Hutchinson
Dunedin NZ
 
1978
Toad Of Toad Hall
Judge
Sherril Cooper
Dunedin NZ
 
1978
Irma La Douce
Chorus
Murray Hutchinson
Dunedin NZ
 
1978
Cinderella
Chorus
Alex Gilchrist
Dunedin NZ
 
1977
Joseph
Brother
Natalie Ellis
Dunedin NZ
 
1977
Macbeth
Donalbain
Elric Hooper
Dunedin NZ
 
1976
Treasure Island
Dick
Murray Hutchinson
Dunedin NZ
 
1975
Finians Rainbow
Og
Dave Rawson
Roxburgh NZ
 
1974
Oliver
Artful Dodger
Burt Nisbet
Dunedin NZ
 
1973
Oliver
Artful Dodger
Jim Fenton
Invercargill NZ
 
Corporate clients
Gothaer Allgemeine Versicherung AG
Biotec B.V. & Co. KG
Siemens Financial Services
E-on Energy
Siemens Oil and Gas
Bosch
Siemens Telecommunication
Sat 1
RTL
Pro 7
Coke
Mazda
Rothmans
Pharma
BNZ
Montana Wines
Vodafone
DHL
NZ Post
Togman
Deutsche Post
DVNLP
VW
Pharma